---
---
The Infiniti EV
A glimpse of the future, the Infiniti EV is set to launch in 2014 in markets around the world. The stylish and high performance five-seat luxury car is completely electric, with zero emissions, and represents the vanguard of Infiniti's commitment to eco-performance. Infiniti makes it possible to harmonize emissions reduction with driving excitement.
---
Infiniti FX Sebastian Vettel Version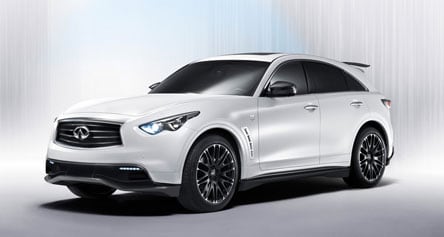 Just six months after the idea first surfaced, the Infiniti FX designed for reigning Formula One World Champion Sebastian Vettel was unveiled at the Frankfurt International Motor Show. What began as a chat between the Red Bull Racing driver and Infiniti's Chief Creative Officer, Shiro Nakamura, at the Geneva Show in March was revealed, in concept form, as Infiniti's fastest car yet and, probably, the most exclusive crossover ever made.
With its sophisticated technology, lightweight components and features such as Rear Active Steering for maximum agility, the V8 FX50S Premium Infiniti's flagship as well as its best-selling model in some markets provides the ideal starting point for the FX Sebastian Vettel version. Changes including increased power, lower weight, derestricted top speed, longer gearing, increased downforce and lowered and stiffer suspension turn what is already a sports car among crossovers into a crossover supercar - the 300km/h reality of the World Champion's vision.
---
IPL G Convertible
Infiniti will double its Infiniti Performance Line lineup of premium performance vehicles in spring 2012 with the addition of the new 2013 IPL G Convertible. More than just focusing on engine power, the Infiniti Performance Line philosophy focuses on "total vehicle performance," including unique aerodynamic styling, the dynamic performance of an IPL-tuned V6, exhaust and suspension, 19-inch IPL aluminum-alloy wheels, three-piece retractable hardtop and a unique red stitched Stone or Monaco Red leather-appointed interior set against a Malbec Black or Moonlight White exterior.
---
The Infiniti Etherea Concept
Introducing the Infiniti Etherea, a special concept vehicle designed to foreshadow the future of Infiniti compact performance. At just over 14 feet in length, Etherea is highly compact but at the same time both space efficient and practical. A supercharged 2.5-Liter 4-cylinder engine, developing 245 horsepower, provides quick response and strong acceleration while offering all the luxury that Infiniti owners expect. Etherea can be summed up as a four-door coupe with five-door practicality ? a hatchback that doesn't look like a hatchback.
---
The Infiniti Essence Concept
Celebrating 20 years as a creator of performance luxury vehicles, Infiniti introduces a vision crafted to embody our core values and inspire future design: the Infiniti Essence. This dramatic styling, technology and performance statement is a 592-hp gasoline/electric hybrid coupe defined by exterior lines sculpted to express fluidity and speed. Destined to influence production models of the future, the Infiniti Essence vividly captures the balance between grace and power, and the unrestrained possibility of Inspired Performance™.
---